G-Force II Electronic Boost Controller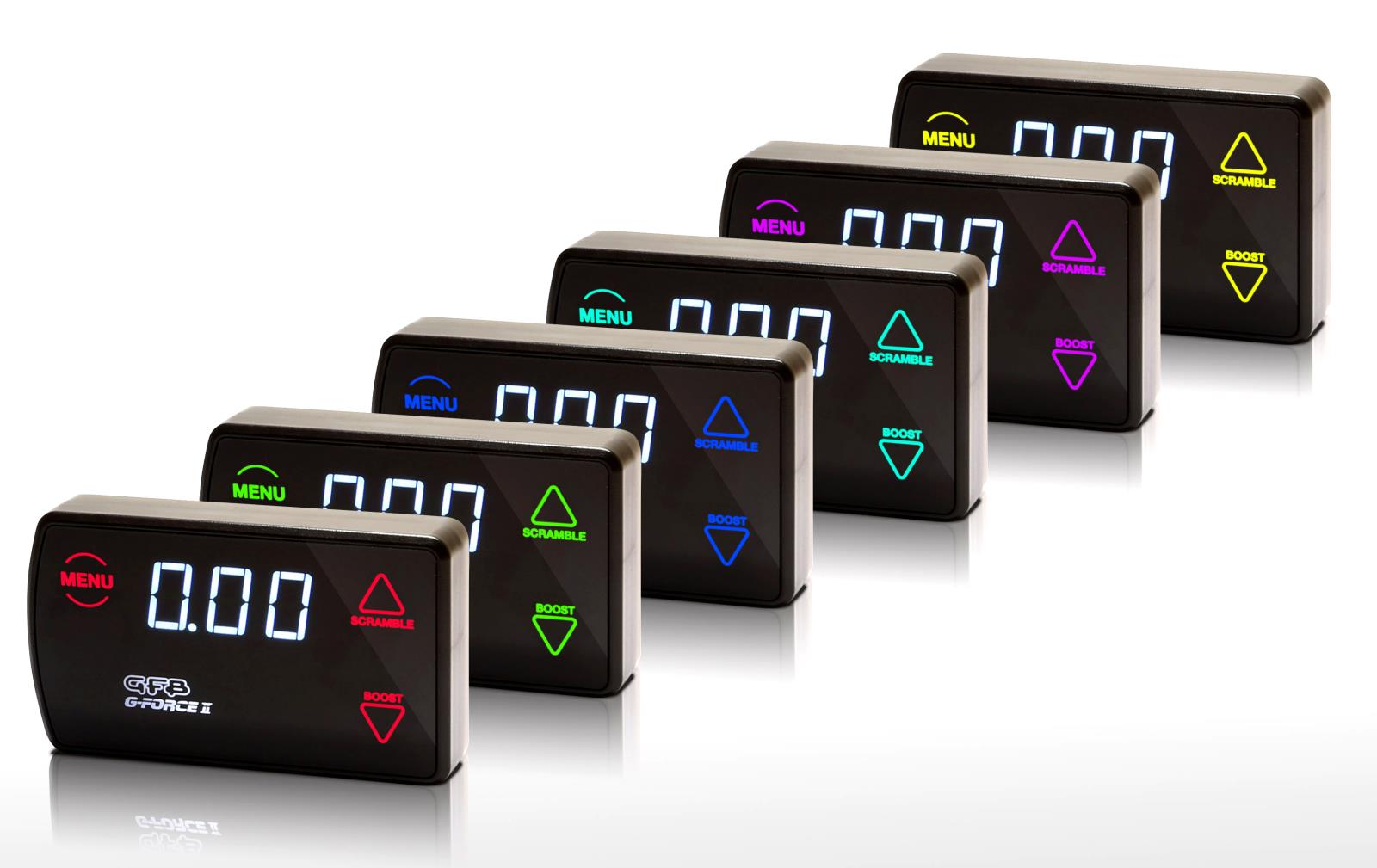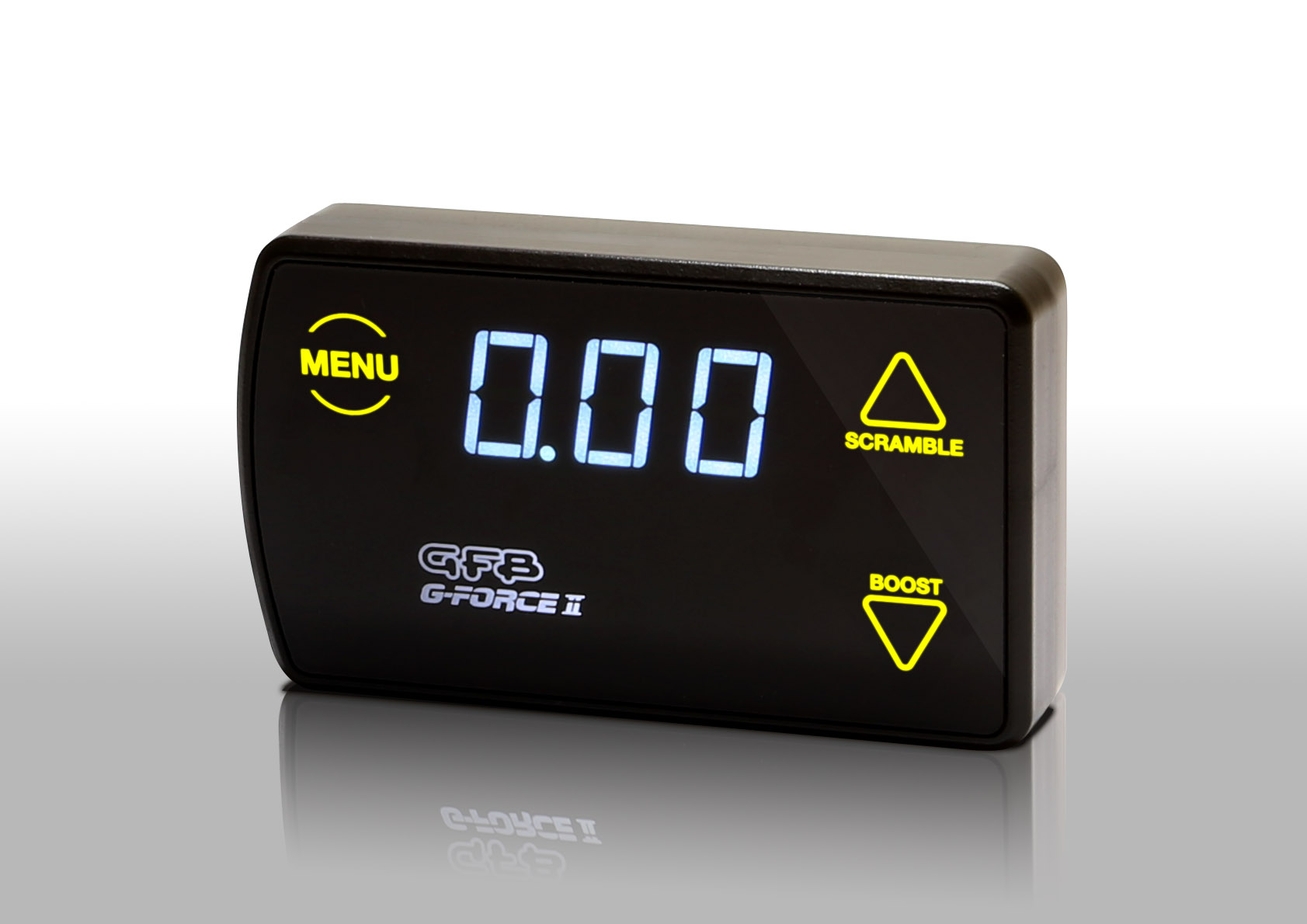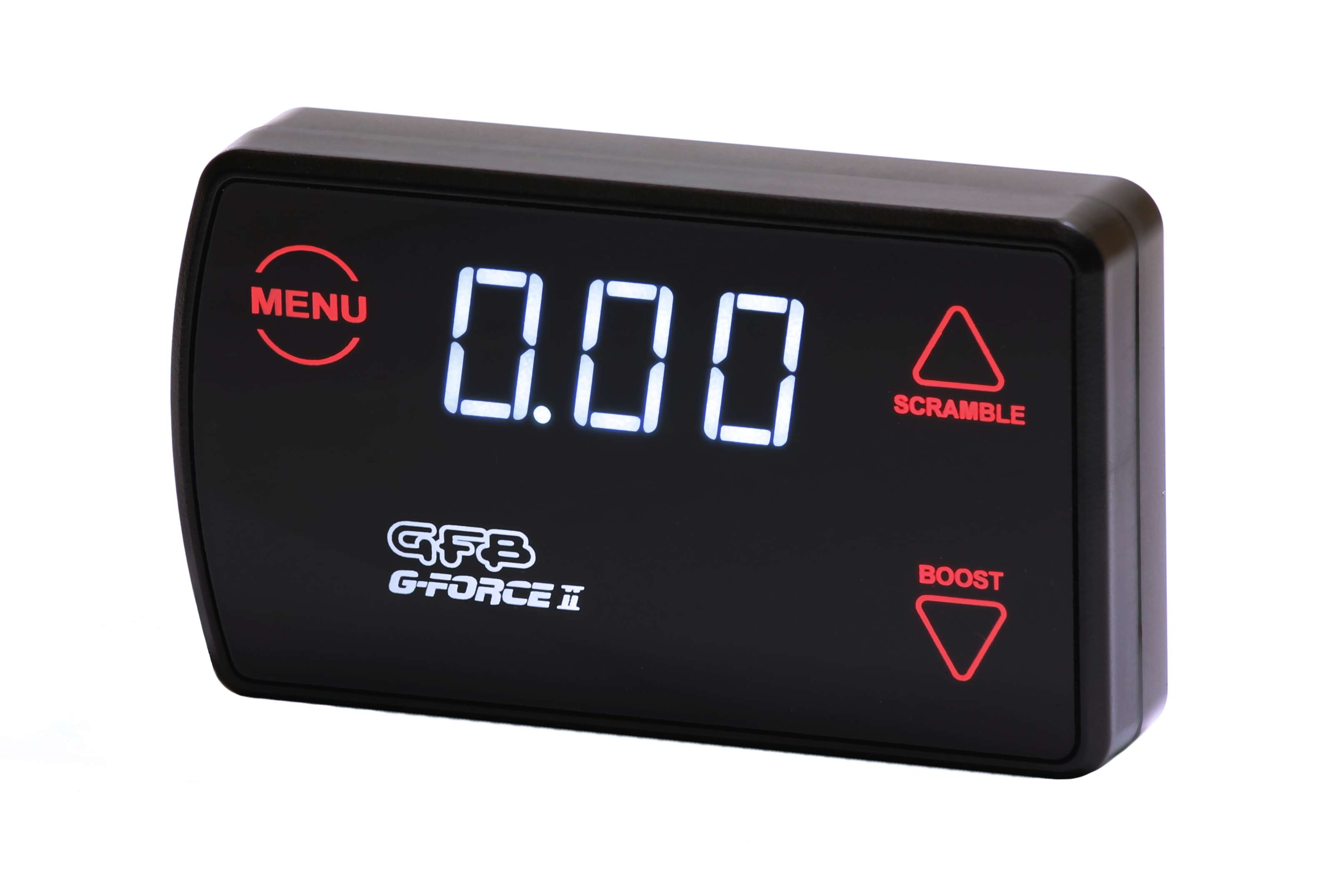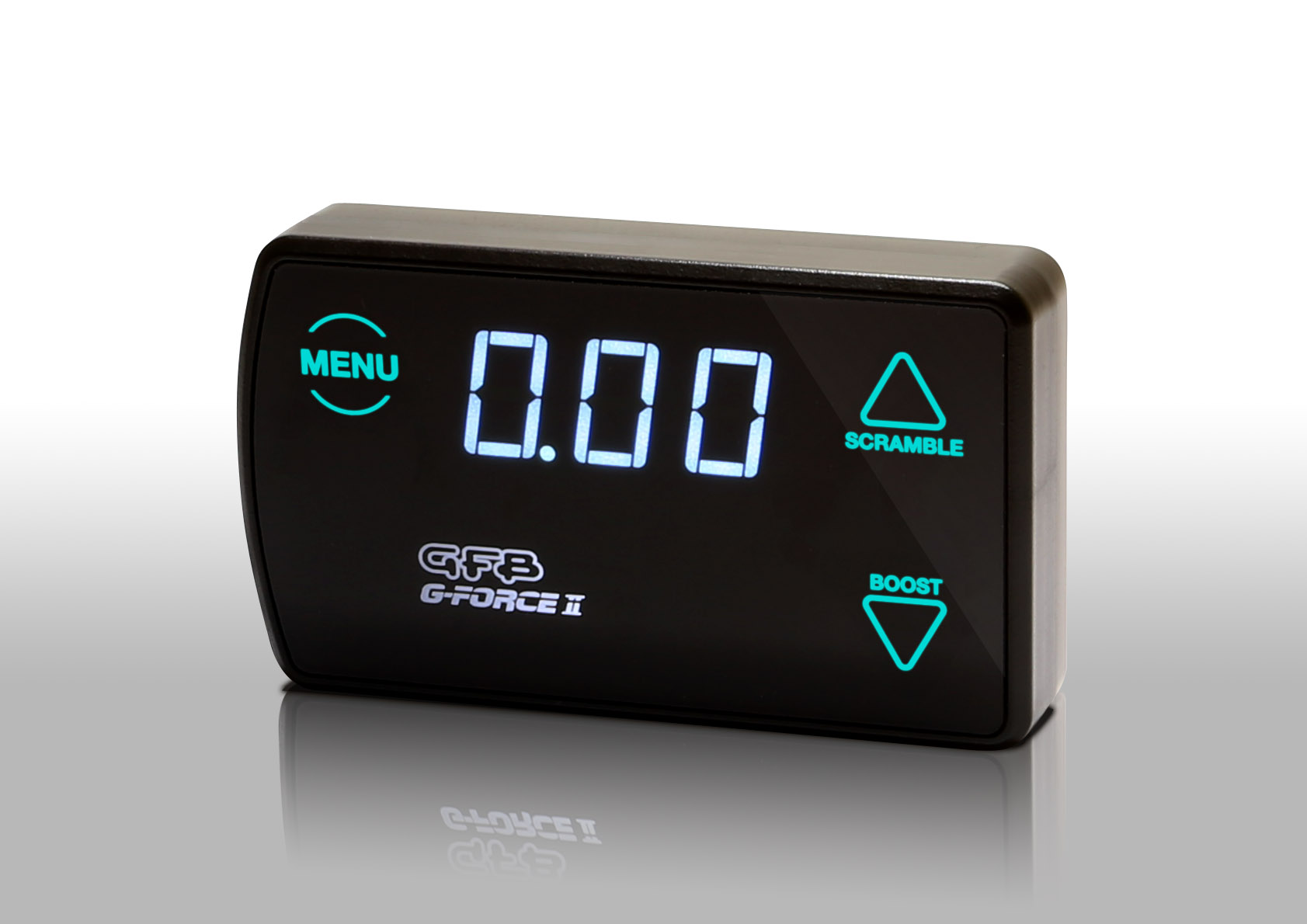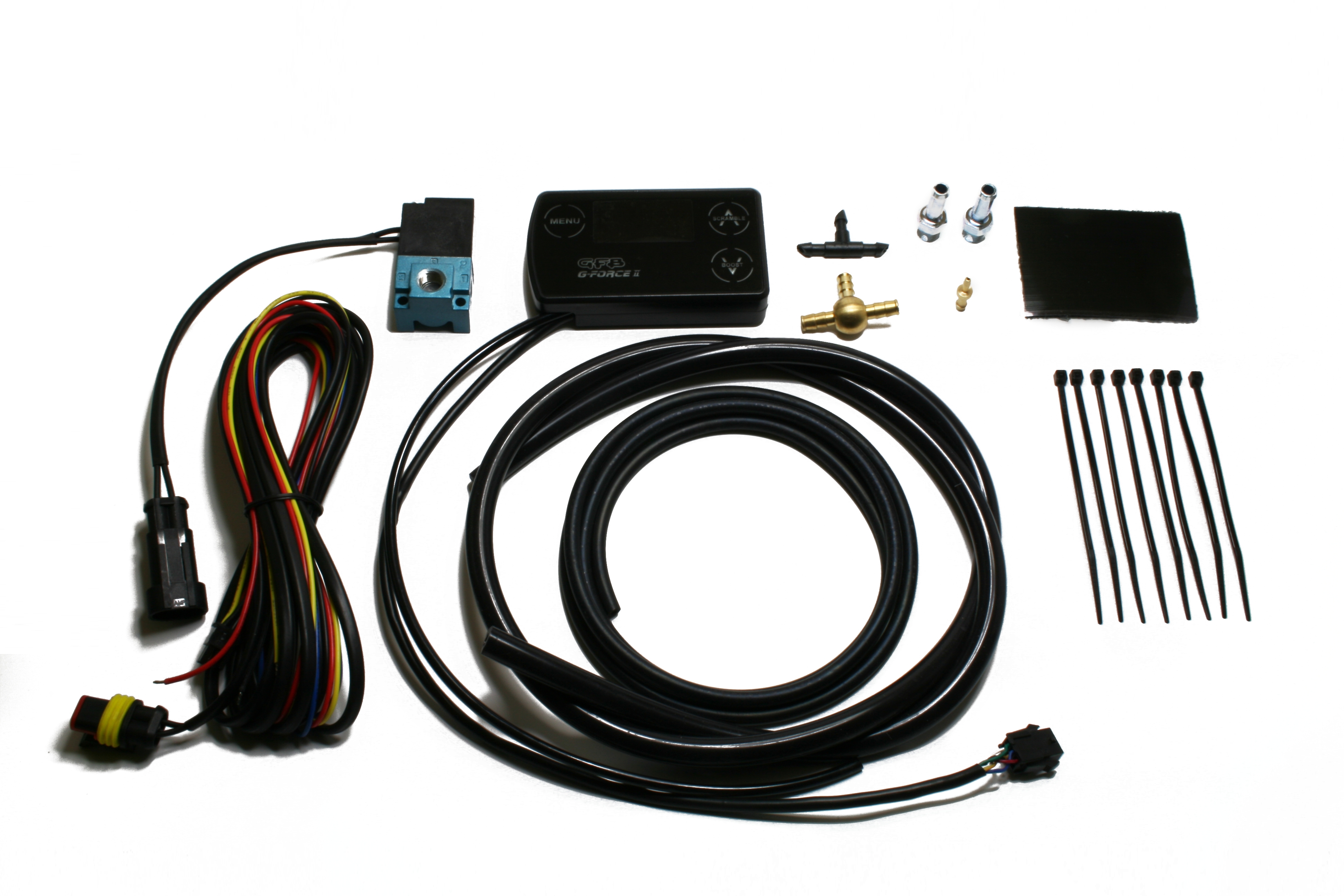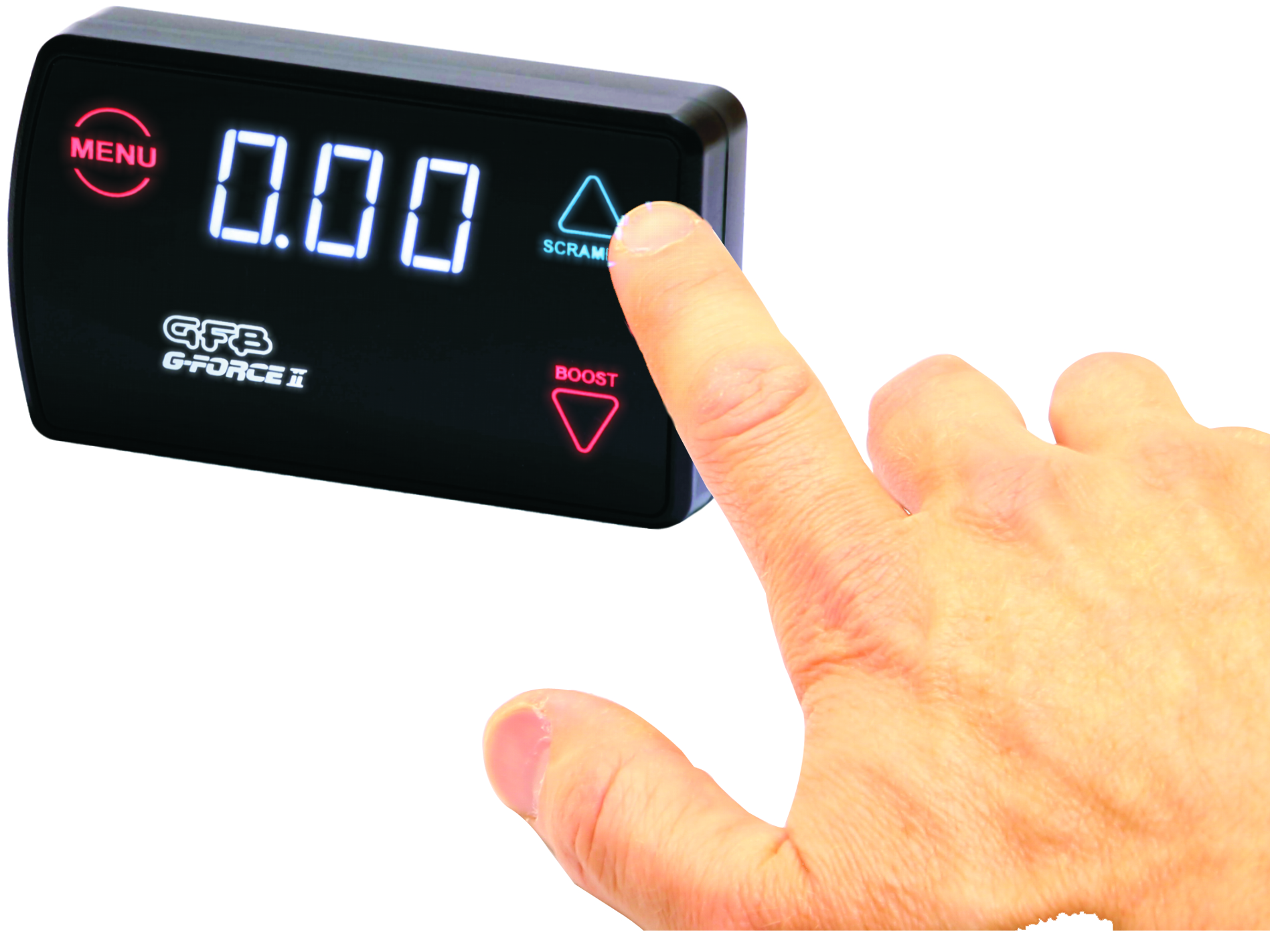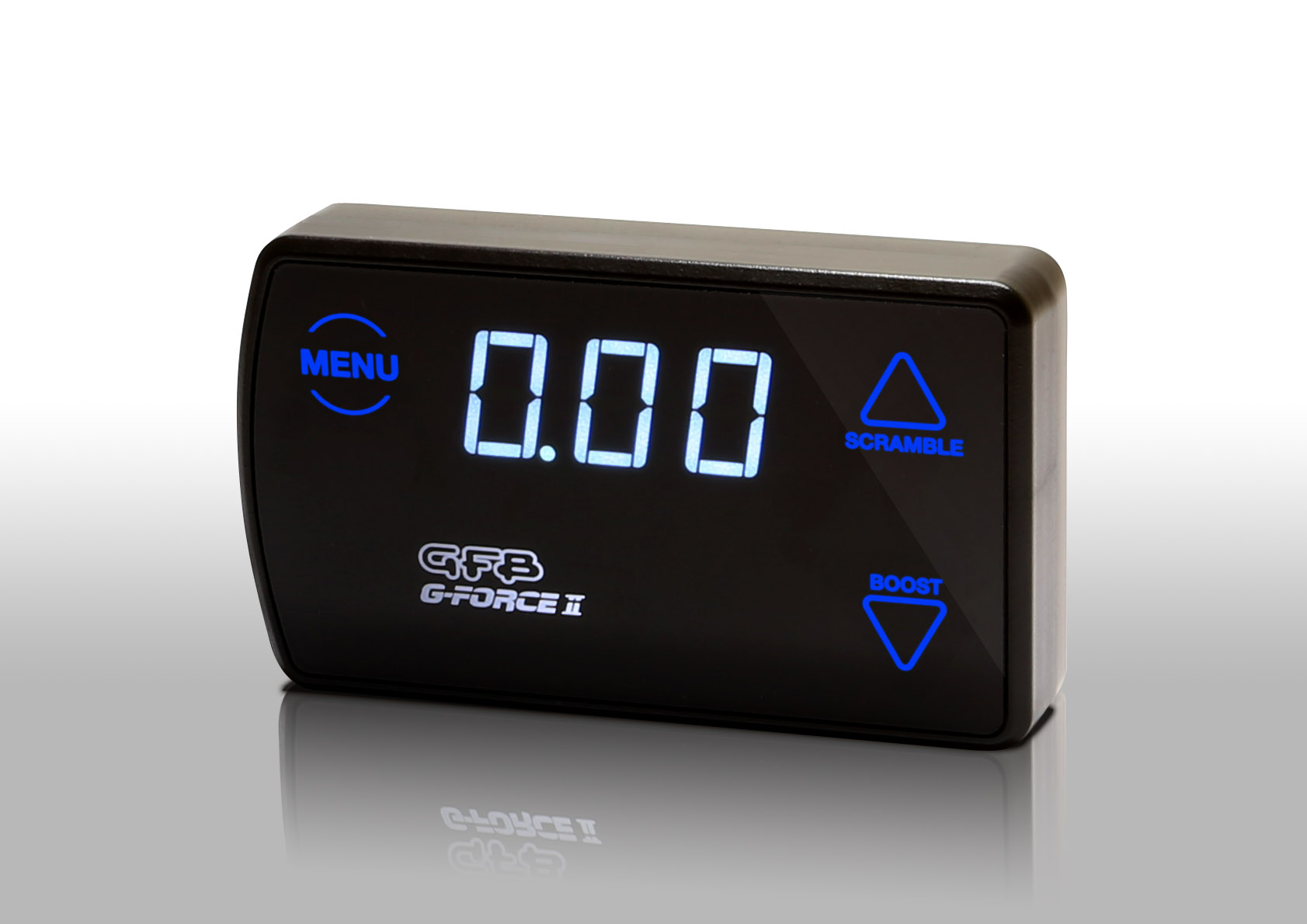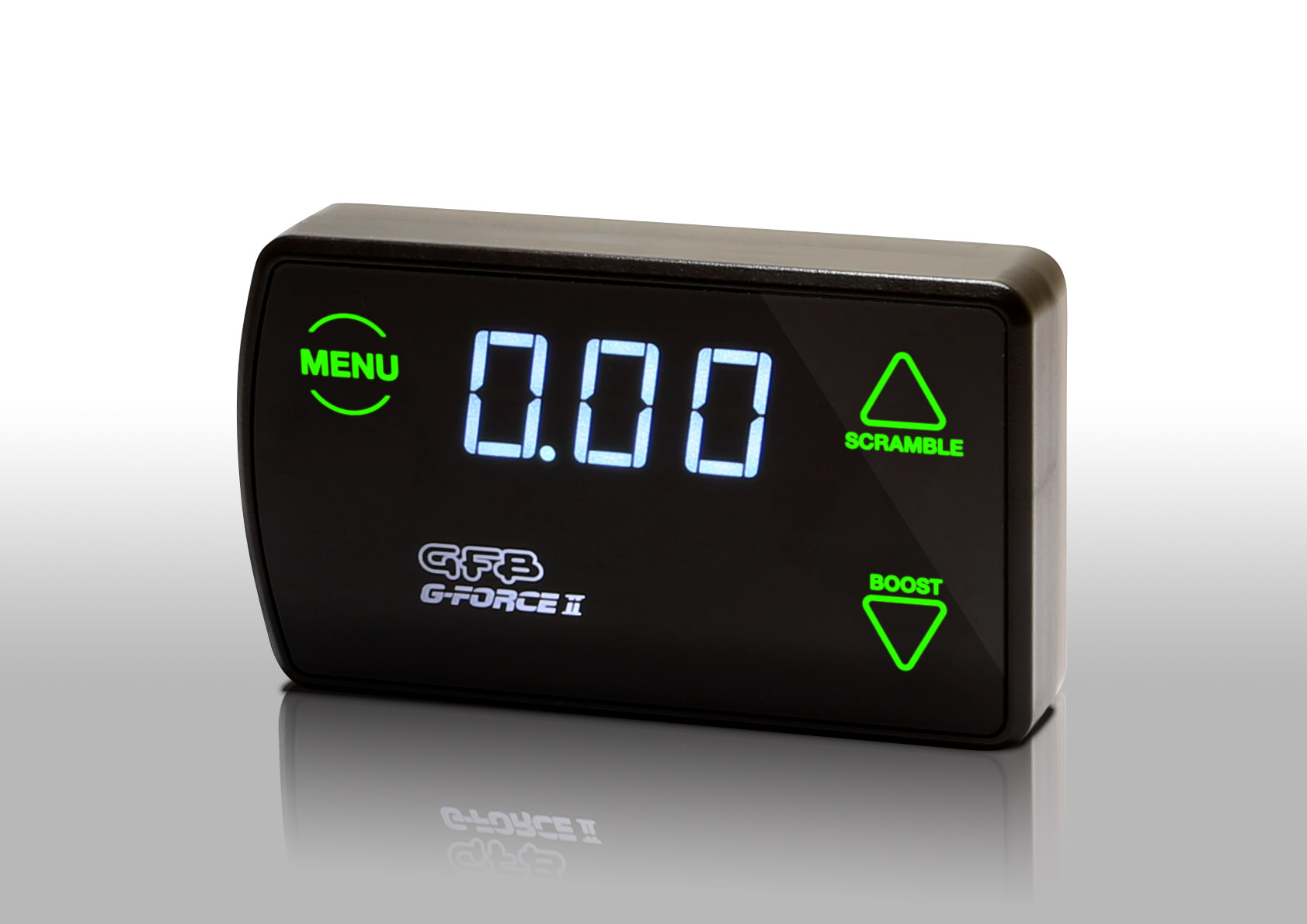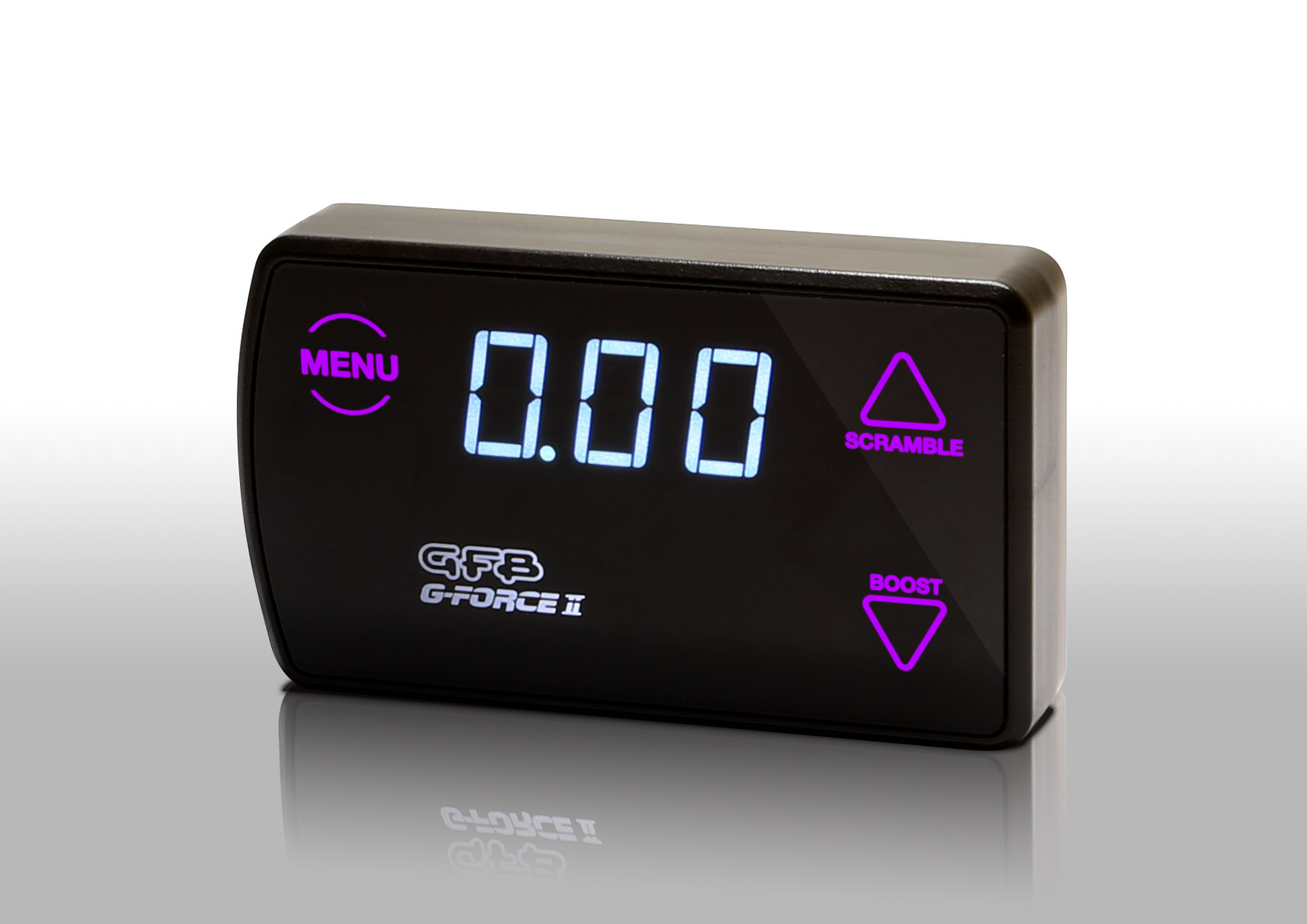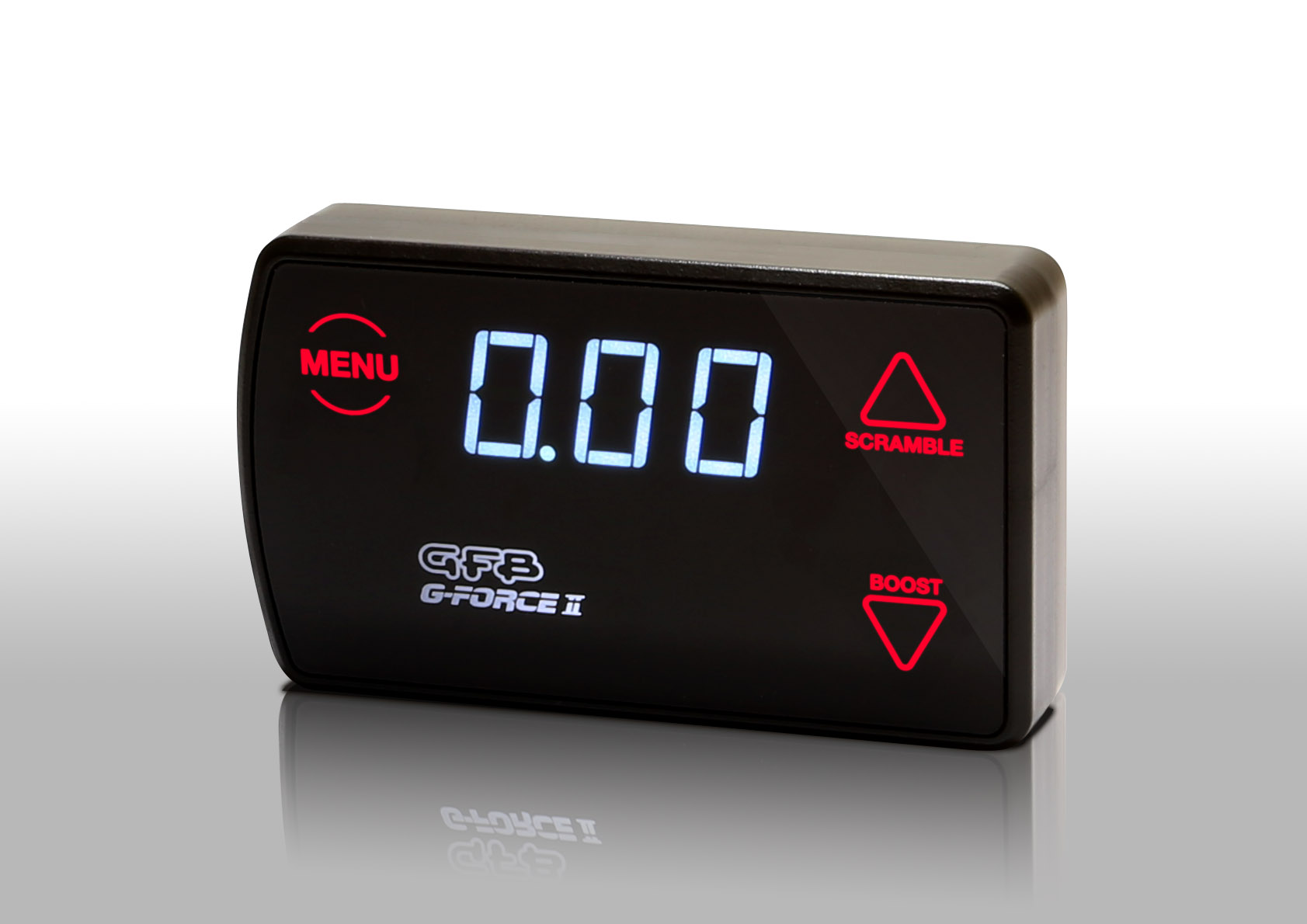 Part No. 3004
G-Force II Electronic Boost Controller
Variant price modifier:
RRP:
Sales price without tax:
Discount:
Tax amount:
Electronic boost control with the GFB TMS touch
G-Force II More Powerful Features, more Simplicity!  Performance without the hassle - easier fitment, faster tuning & setup and a simple user interface.
G-Force II builds on this philosophy by adding more powerful features, and even more simplicity!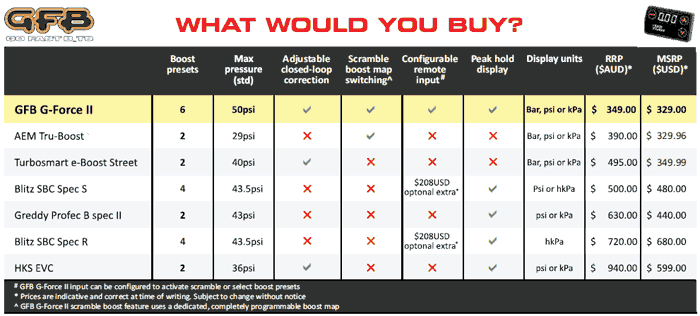 If you've used the original GFB G-Force, you'll know that it represented outstanding value for money, with advanced capabilities and features usually reserved for very expensive units.
The G-Force II has taken everything that was great about the original, and made it better! There are new features, existing ones have been improved, and most importantly, it's even easier to use!
If you haven't experienced the original G-Force, all you need to know is the G-Force II is the best value-for-money electronic boost controller out there, and it's not just for street use - even hard-core racers will find the G-Force II has what it takes to perform on the track!
Touch screen interface with menu button
Capacitive touch screen and new menu button make menu navigation exceptionally easy - no more pressing or holding multiple buttons!
Choose your screen colours
There are six button illumination colour options to match your car's dash
New closed-loop boost control strategy
For the fastest possible boost rise rate and minimum dropoff at high RPM, the new closed-loop logic helps prevent boost variations that can occur in different gears, RPM ranges and atmospheric conditions
Internal MAP sensor handles boost pressure up to 50psi (3.45bar, 345kPa)
Still class leading performance!
Improved scramble boost feature with remote switching capability
Scramble boost now uses a dedicated boost preset (instead of a percentage increase) so that peak boost, rise rate, and closed-loop control can be specifically tailored to suit your needs when activated. You can now lower OR increase boost pressure, AND change the spool-up rate and correction, all at the press of a button.
6 boost presets, individually programmable
You can program 6 different peak boost pressures and rise rates, then select on-the-fly
New peak-hold display
Shows the peak boost achieved after each boost run
Remote input trigger
Connect the remote input wire to a switch, button, or ECU output to change boost presets or activate scramble boost
Real-time boost gauge; display in bar, psi, or kPa
Choose the gauge display pressure units to suit your preference
Real-time vacuum display
Now shows manifold vacuum as well as boost
Over-boost warning/cut
User adjustable warning to indicate if the boost pressure is too high and to cut the solenoid to lower boost and protect the engine
More about Electronic Boost Controllers
Take control of the boost level in your turbo car with a GFB boost controller, one of the simplest and most cost effective power increases available.
VNT/VGT turbos are typically found on late-model diesel engines (rarely used on petrol engines), and often the actuator can look similar to a wastegate actuator. If you are unsure of your turbo type, please consult your dealer before purchasing.
Videos
GFB G-Force II electronic boost controller
82853 views
GFB G-Force II Electronic Boost Controller Calibration Video
16366 views
Product Reviews
We value feedback from our customers. If you'd like to leave a review for this product, please complete the form below.
"The GFB G-Force II works great on my AGP Twin Turbo LS3 Camaro. It fits perfectly on the top of my steering column and blends well with the dash".
Mark S
Having just fitted a Gforce2 EBC to my turbocharged EP91 Starlet im very happy with the product, Price and how well it works. Big thanks to everyone there at GFB !!!
Andrew
These are really great boost controllers. Compare favorably to EBC's costing twice as much. The closed-loop correction really sets this one apart from the rest. So many other EBC's allow boost to fall off toward redline, where these are rock solid. And the aux remote input wire build in can be used for so many really powerful uses. https://www.youtube.com/watch?v=RWanqMMhv8c
AGP Turbo
I put a G- Force 2 in my starlet and i love it . so easy to install and does everything and more than more expensive others. Very happy customer. 4efe + TF/TDO4
Andrew Rigg
I'm using the GFB on my Twin Turbo ZL1 and it works very well. Here is a video: https://www.youtube.com/watch?v=bD3a4NTlFys
Jeff C.
Review this product!
Because our Website guys aren't necessarily our Tech guys, we ask that if you have a specific question, please visit the contact us page. This way we'll be able to answer your query quicker!
Ask our experts a question